The Transformation Lab (TLab) supports 10 campus improvement teams in two cohorts to undertake measurable, sustainable, and scalable improvements within a Networked Improvement Community (NIC). The Transformation Lab is part of the Improvement for Equity By Design This link will take you to an external website in a new tab. (IExD) Improvement Fellowship, a nationwide collective of educational improvers building improvement capacity together " in service of a more just world." The Educator Quality Center (EdQ) and partners serve as the support hub for the work, providing resources, coaching and facilitation of learning and collaboration. Using rubric-generated goals as a starting place, TLab participants engage in deeper work to understand the root causes and systemic factors influencing the areas they wish to improve, test changes, gather data and document their improvements. They are supported by an improvement coach throughout. Content expertise is provided by utilizing resources and experts both from within and outside of the CSU.
A key product of each team's work after their second year in the Lab is the documentation of their learning and progress in a change package.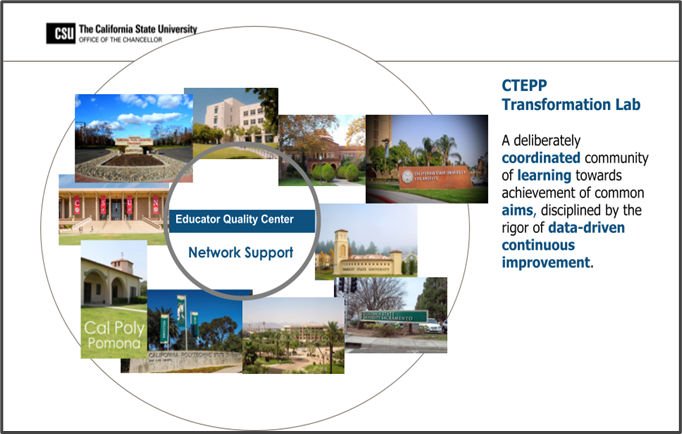 The TLab network includes teams from: CSU Bakersfield, Cal Poly Humboldt, Cal Poly Pomona, Cal Poly SLO, Cal State Chico, Cal State Northridge, Stanislaus State, Cal State LA, Cal State Long Beach and Sacramento State.